For a lot of people, search engine optimization is an afterthought.
It's strange, as even Google says that IF you have to hire an SEO strategy, you should do so early rather than late, like when you're just planning to launch a new site.
Now, why would Google say that?
Because search engine optimization isn't a topping that you can just pour on top of your site. It's a base ingredient.
This applies to when you're building BRAND as well. When you launch your brand (and your site), you shouldn't dismiss search engine optimization for later.
Why?
Because SEO is all about improving user experience — that's why Google cares about a site's speed, web design, high quality content marketing, mobile-friendliness and so on.
The ever-so-hyped UX vs SEO is a hoax.  And, as a building brand, providing a great user experience should be your priority as well.
SEO influences different aspects of the user experience.
In the following diagram, Peter Morville gives the simplest representation of what a user experience feel likes.
No matter what business you're in, your user experience will be formed around how your users feel about you on the different aspects of the User Experience Honeycomb.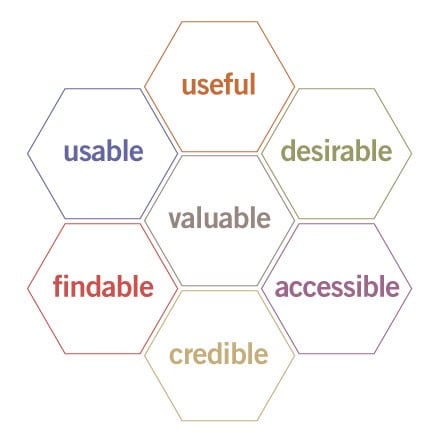 Your brand image is a reflection of how your users feel about you.
To make your users feel good about your brand, focus on the different user experience modules:
See How My Agency Can Drive
More
 Traffic to Your Website
SEO – unlock more SEO traffic. See real results.
Content Marketing – our team creates epic content that will get shared, get links, and attract traffic.
Paid Media – effective paid strategies with clear ROI.
BOOK A CALL
Useful: Your content should be high quality, useful and relevant.
Usable: Your site should be easy to navigate.
Desirable: Your design should appeal to your target audience.
Findable: You should focus on content and make searching for information easy..
Accessible: Your site should be mindful of people with disabilities.
Credible: Your brand must show signs of authority and prompt trust.
Since the above attributes are the hallmarks of an ideal user experience, you should think about them when you're building brand awareness for your business.
Most of these attributes, like being useful, usable, findable, accessible and credible map directly to SEO. After all, search engines gauge the overall user experience and decide if your site is the best result to show.
If you haven't already optimized your brand for the search engines, this is the best time to start, because you probably want to market to the MILLENNIALS.
Millennials and their moments of need (and where your brand fits in)
Google identifies different micro-moments:
Want-to-know moments
Want-to-go moments
Want-to-do moments
Want-to-buy moments
All of us live many such micro-moments in our daily lives.
Simply put, micro-moments are moments of need. These are moments when we want to do something and do it really fast. Because mobile phones are our most accessible devices, we use our smartphones and make buying decisions on the go.
Google shares a great story that shows how such moments trigger actions and lead to sales.
"Neel needed to find a laptop cover immediately.
Caught in the rain at uni, Neel worried about the safety of his new laptop, which got wet in his bag. Acting in the moment, he turned to his smartphone to find the best laptop covers. Within a few minutes, he discovered a new brand he loved and decided where he was going to buy it. An hour later, he went in-store and made the purchase."
See how rapid the buying cycle just got?
With mobiles, your prospects are a few clicks away from you.
Just like Neel, your target customers too might using search engines to hunt for you within their search results. Even now, as you read this.
In the above story, Neel ended up BUYING A BRAND THAT HE HAD JUST DISCOVERED THROUGH SEARCH RESULTS. Yes, he didn't know the brand before he made the search.
You or your product, too, can become the brand that interprets such moments of need and shows up in search results when your prospects look for you.
You'll be surprised to learn that 61 percent of millennials have discovered and bought a new brand they knew little about by just searching on their phones.
You can be building brand recognition that your target audiences is craving and cater to their moments of need. You can become their PREFERRED brand.
But, for this to happen, you need to optimize your content marketing and brand image. Optimization brings our focus back to user experience because that's what Google cares for.
So, how do you cater to both the search engines as well your potential customers?
The answer lies in inbound methodology, because the inbound methodology is designed to help your users while generating quality leads for you.
Let's see why the inbound methodology makes a brand successful and the role SEO plays in an inbound marketing strategy.
What's the inbound methodology and how it helps in branding
I'm sure you have heard about the inbound methodology.
Instead of calling out to prospects, the inbound methodology draws them in by giving them what they need during different stages of their buying journey.
The inbound methodology is a philosophy rather than a marketing method. As many as 3 out of 4 marketers prefer an inbound approach to marketing.
A whopping 84% of small business owners use the inbound methodology predominantly. By adopting the inbound methodology, 92.7% companies saw increased leads.
If you want to build strong brand awareness quickly, you will have to think about your target audience first, and that's what the inbound methodology will help you with.
Before we see how search engine optimization integrates with the inbound methodology, let's define the four major stages in the inbound marketing method:
Stage #1 – Attract: This is where a prospect finds you within search results or social networks (typically through the useful content that you create).
Stage #2 – Convert: During the convert phase, you ask your site visitors to subscribe to your list and they enter your sales funnel.
Stage #3 – Close: The close phase is where you make your offer and get a sale.
Stage #4 – Delight: Once a sale is made, you drive your efforts to get the customers to use your products and reach their goals.

SEO is a big part of the inbound methodology because the inbound methodology starts with discovery where search engines play an important role.
The role of SEO in a brand's inbound strategy
Since it's established that inbound is the only way to go, let's see how search engine optimization fits into the picture.
Moz published the following graphic outlining the elements of the inbound methodology. If you look at the list, you can see that it starts with SEO.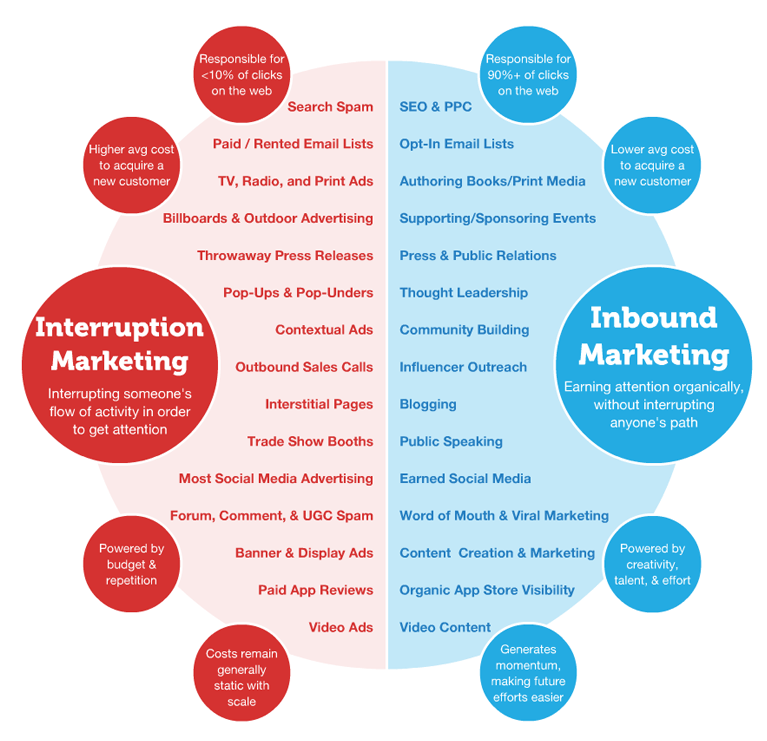 Other elements that follow SEO closely are content, networking, and social communities.
If you want to build strong brand recognition using the inbound methodology, you need to work on your SEO, content marketing, networking, social networks and other such things.
SEO helps with ALL OF THIS:
Optimizing content gets more traffic and leads.
Improving the social network performance builds higher engagement.
Networking with authorities (link building) lets you cash in on their reputations.
Traffic, leads, engagement — these are the lifeblood of a building brand.
The other requirements of strong brand image like its story, design and UX are also closely tied to SEO.
By using SEO to build your brand awareness, you can make all of the important brand recognition and inbound marketing elements work in synergy.
Now, it's time to look at some of the most important concepts about your brand image and see how SEO can be baked into them.
Storytelling and SEO
Every great brand has great brand stories.
We relate to stories because, as humans, we are hardwired to listen to stories.  That's why brand stories are a powerful means of internet marketing for your business.
If you can carry your brand story well, you will be able to engage different senses in your user's minds and help to raise brand awareness in a truly visceral, effective manner.
Besides, with more and more people realizing the importance of research-based and data-backed internet marketing, merely creating high quality content is not enough. You need to do better than that.
Here's where stories jump in.
They add a personal touch to an otherwise plain compilation of data.
Laura Busche defined a brand story perfectly when she wrote,
In essence, a brand is nothing more than the story that users recall when they think of you, because this story is made up by every single touchpoint of our user's experience…
While you may be a natural storyteller, you could still find it hard to tell your brand story. Busche has created a handy tool to help tell your brand story (I'll show you how you can map SEO into this story in a bit).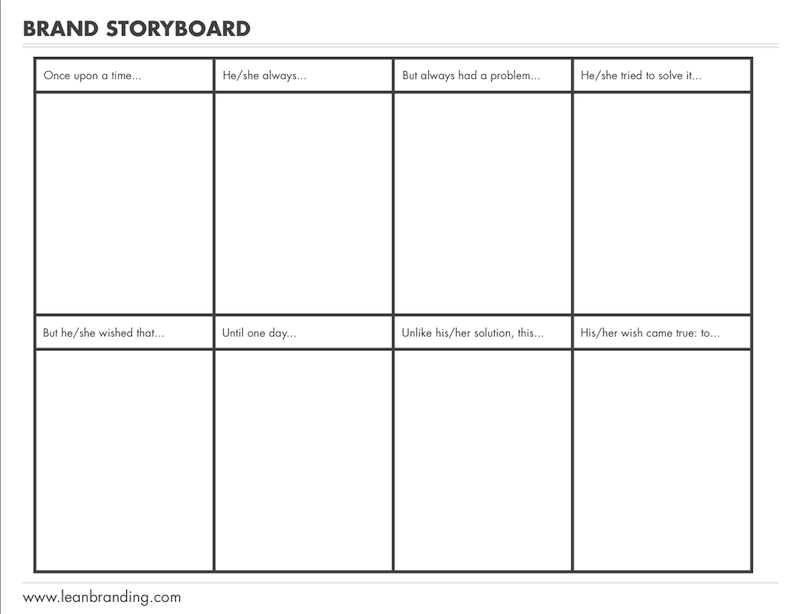 In one of her posts, Forbes contributor Susan Gunelius describes brand stories as:
Brand stories are not marketing materials. They are not ads and they are not sales pitches. Brand stories should be told with the brand persona and the writer's personality at center stage. Boring stories won't attract and retain readers, but stories brimming with personality can.
Brand stories, however, aren't stories that only talk about your brand. Instead, good brand stories are always about the customers and how they used your product or services to meet their goals.
Because brand stories aren't so much about the brand as they are about the users, it's important to use the right messaging and language when creating them. You can do this confidently if you have researched your keyword phrases well.
At the crux of any successful attempt at internet marketing and brand communication (including a brand story) lies a solid message architecture.  It's this message architecture that needs to resonate with the target audience.
In one of my ebooks, I have shared the following process for creating a winning message architecture.
As you just saw, the first step to getting the messaging right is to tell your story using the right keywords.
A brand story doesn't have to be fancy. Just ensure that you speak in a language that resonates with your target audience.
Once you create a list of keyword phrases that gets your audience ticking, go back to the storyboard above and see where those keywords fit.
For example, if you offer an invoicing solution for small businesses, your brand story could be about a small business owner who struggled with manual invoicing until he discovered your invoicing solution especially designed for small businesses.
Notice how naturally keyword phrases fit into the context if you tell the right story. It's almost effortless.
Content, Copywriting, and SEO
Whether you run a purely online business or you use your site to drive traffic to your brick and mortar store, high quality content is what gets you traffic, leads and sales.
Content is the cornerstone of internet marketing and for successfully building brand.
Because the inbound methodology begins with discovery, your brand needs to become discoverable in search results on various search engines. Optimizing your content for the right keywords is your first step to boosting your brand image and becoming more visible to search engines.
I have covered this topic in detail in one of my earlier posts on SEO copywriting (SEO copywriting is writing high quality content that's both user and search engine friendly).
Here's a quick rehash:
Tip #1 – Use keyword phrases
Keywords matter to both users and search engines.
Keywords tell the search engines that you have the relevant content to offer.
New sites often find it hard to outrank established sites for relevant keyword phrases. A good solution is to target longtail keywords. Longtail keywords are less competitive and generate better leads.
Step #3: Analyze the List of Keywords
The results above show 417 keywords, including the seed keyword "content marketing." As you scroll down the list, pay special attention to the data provided:
Volume – the average monthly search volume in Google
CPC – the cost per click for a Google Ad
PD – the estimated competition in paid search, with higher numbers more competitive
SD – the estimated competition in organic search, with higher numbers more competitive
With so many options, you need a way to narrow the field. Do this by searching for high volume, low SD keywords. The high volume ensures a good level of traffic if you reach the top spot on Google. A low SD improves the likelihood of reaching the #1 position.
As a general rule of thumb, target keywords with a volume of 1,000+ and an SD of no greater than 40.
Another thing I like to do is click the "questions" tab above the results. This shows keywords in the form of questions, which tells you exactly what your audience is searching for.
Rather than guess as to which keyword phrases are best, use Ubersuggest to ensure that you're targeting those that will move the needle.
Tip #2 – Work on the headline
Copyblogger shares an interesting 80/20 rule of headlines:
On average, 8 out of 10 people will read headline copy, but only 2 out of 10 will read the rest.
A good headline entices people to click through your content.
But writing good headlines is hard. So, when you sit down to write headlines, don't start from scratch.
Use the following tools to get a headstart:
HubSpot Blog Topic Generator
Blog Title Generator by Impact
Blog Title Generator by SEOPresser
Content Idea Generator by Portent
All these tools need you to input your keyword and they then return with snappy and clickworthy titles.
There's also this masterpiece content from Jon Morrow: A swipe file with 52 headlines templates that you can use. (Note: You will have to subscribe to get access.)
Tip #3 – Optimize tags
Placing keyword phrases in tags is important. By optimizing tags, you can build solid on-page search engine optimization for each piece of content you post.
Make sure you use your target keywords in the following 3 tags:
Title
Meta-description (doesn't contribute to SEO directly, but is visible to the users and influences the CTR)
URL
To learn more about how content can be used when building brand awareness, read my guide on content marketing.